Built: 1912
Capacity: Approx 110 t.
Width: 17.8m
Gauge: 1065mm gauge (3ft 6in)
Built in 1912, the turntable is 17.8m long and can be operated by hand or with air.
To operate by hand, there is a handle at one end of the turntable which in cranked.
To operate by air, there is a hose that is connected to the brake pipe of a locomotive.
This mechanism was installed in 1957. How the turntable was operated before this time is uncertain.
As of 2019 the turntable has been up-graded and is now powered by a small diesel/hydraulic system, which is described further on in this article.
The sandstone featured in the turntable retaining walls came from Yangan Quarry which was ownered by the Brewer family. It is the only known turntable with sandstone construction.
Apart from the inspection pits and ash-pit, the turntable is also all that remains of the original Warwick locomotive depot which was demolished in the 1970s.
When SDSR moved to the Warwick Railway Precinct in 1995, the turntable was in a very bad state of repair and lot of work needed to be done to it to bring it back to it's former glory.
In December 2018, during the Christmas shut-down period, extensive works were undertaken to strengthen both approaches to the turntable. With the recent establishment of a working partnership with freight company Watco, it was decided to upgrade the facility for safety reasons. At the same time a roadway crossing was laid in concrete.
SDSR would like to thank Watco for their financial assistance with the up-grade.
We even had a pair of flashing railway crossing lights that were restored by volunteers and these were also installed.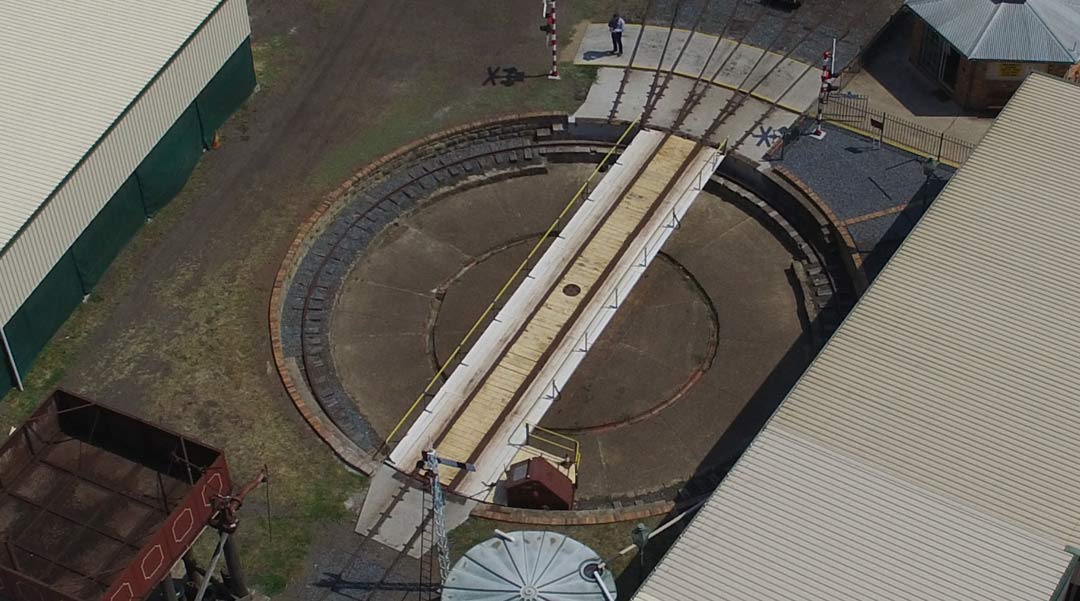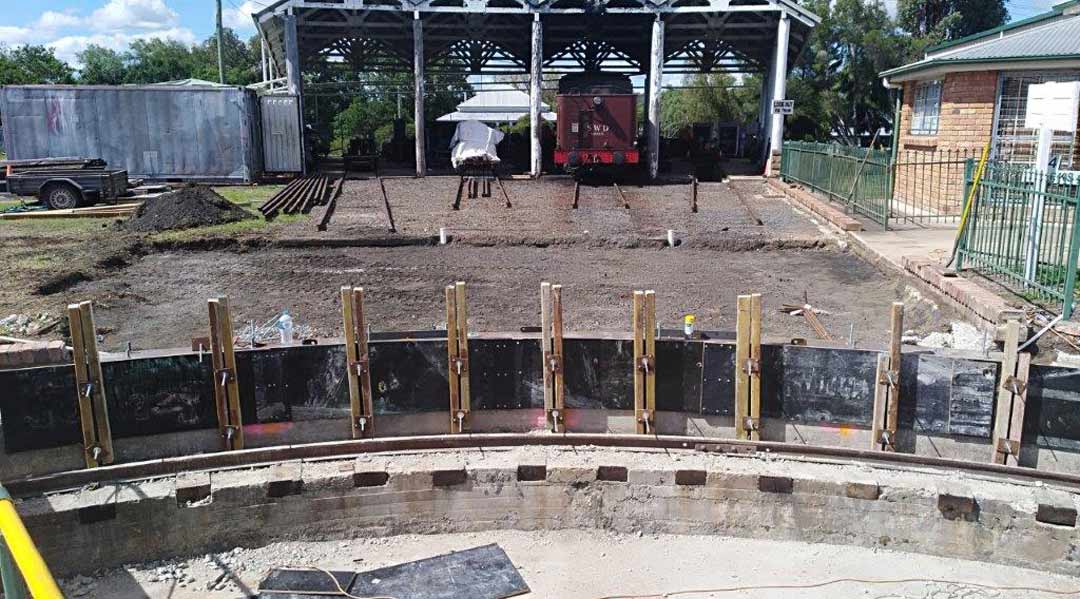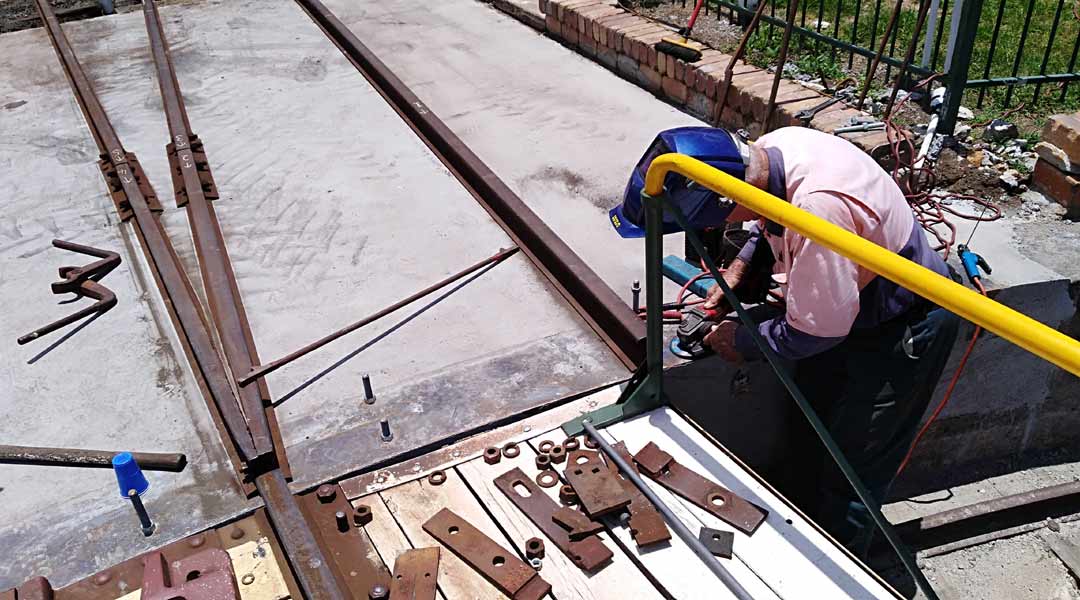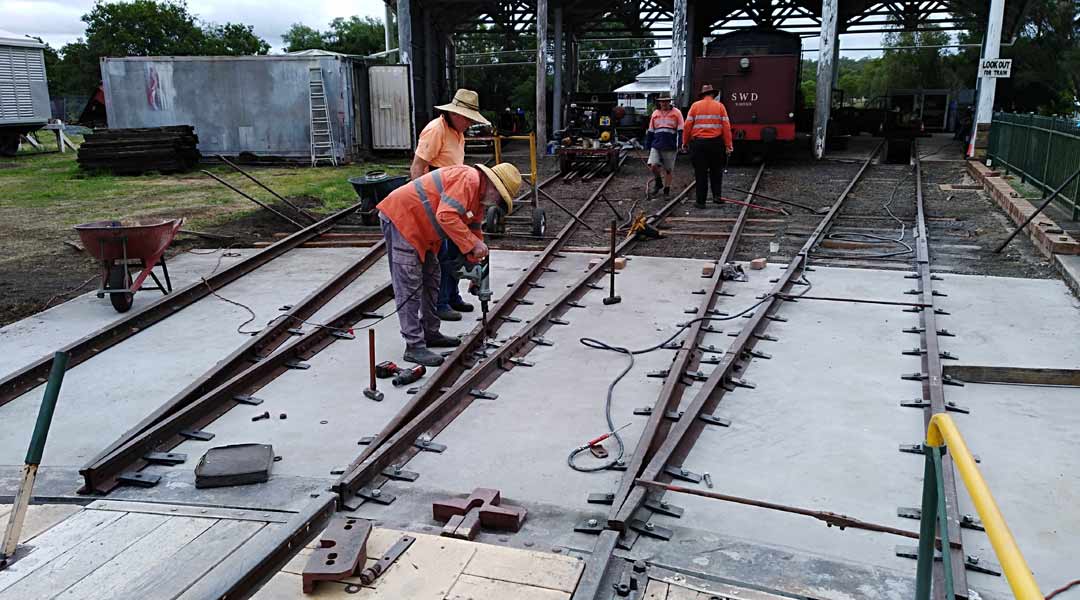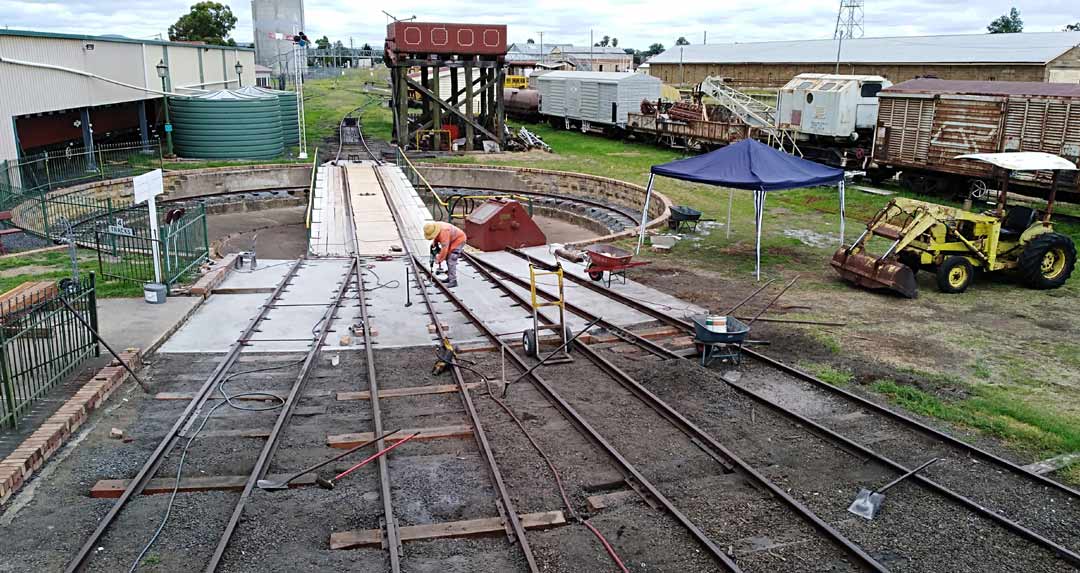 Thank you to all the volunteers who gave up some of the 2018 Christmas break to complete this task.
DIESEL-HYDRAULIC POWER INSTALLED 2019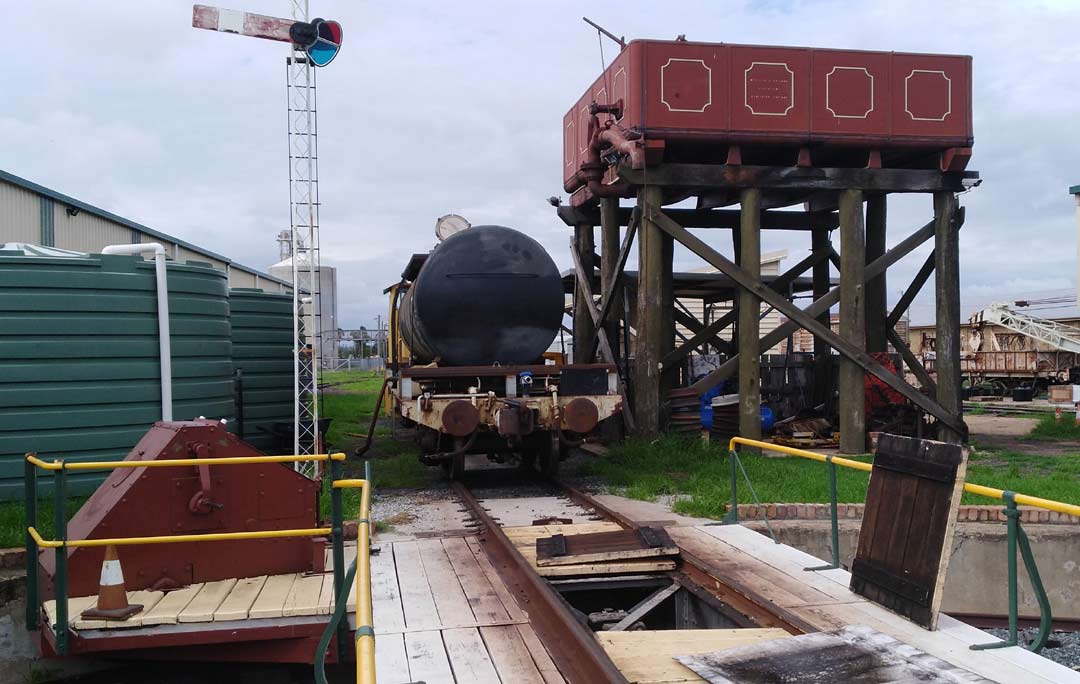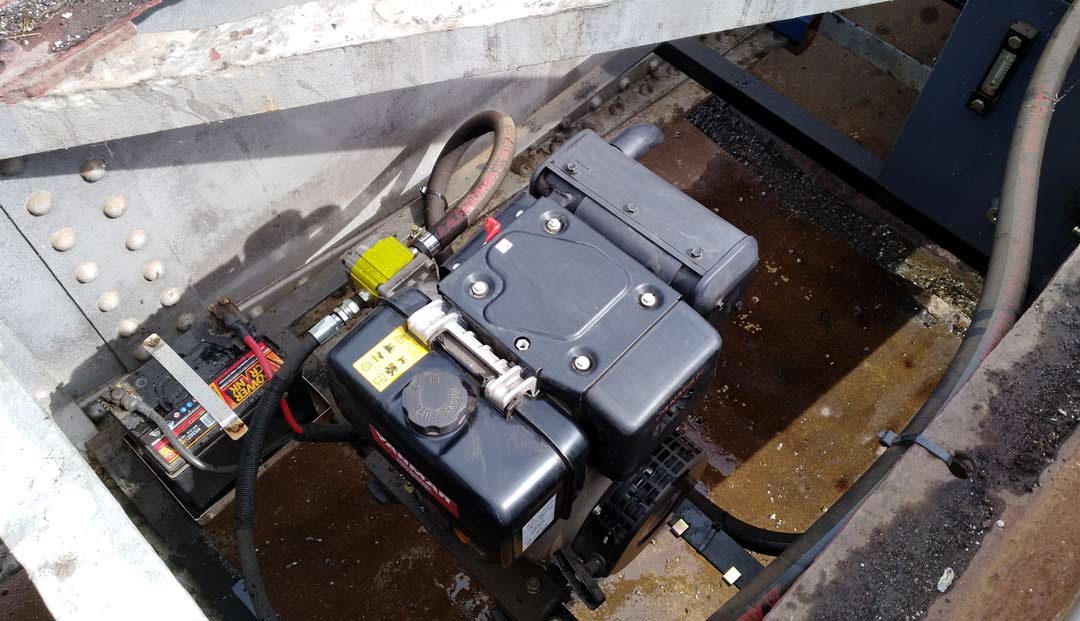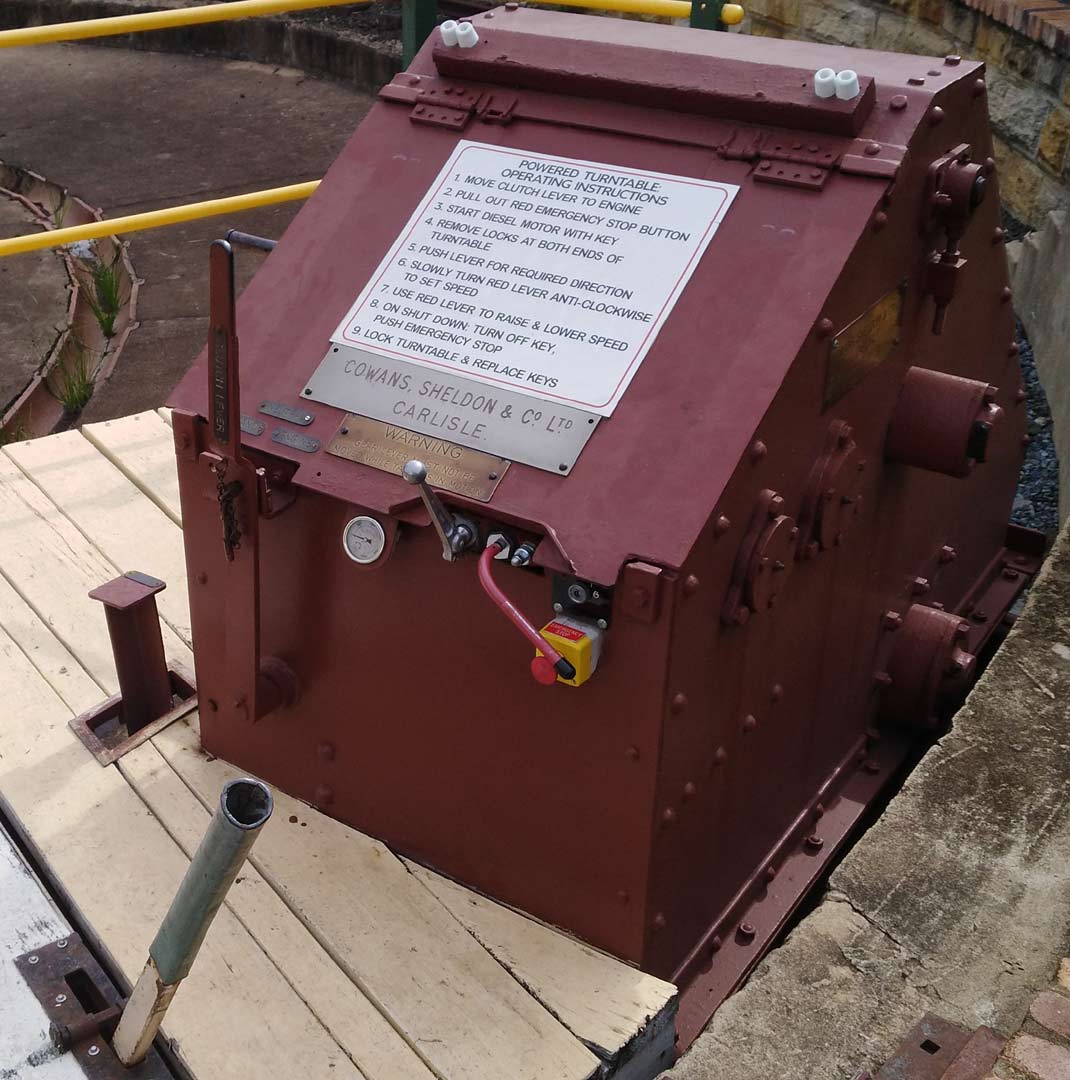 Turntable modifications 2019
The use of the locomotive that was on the turntable as the source of power, was a very neat solution in its day. The alternative being the crew cranking it by hand.
However, the use of the air supply from the engine could sometimes have its limitations.
We had restored the pneumatic motor inside the control box, but owing to its age and the imminent arrival of 95 ton Watco diesel locos, it was decided to upgrade the unit.
A very clever bit of adaptation by Dave Laker, Brad, Trevor and others saw the installation of a small diesel engine, hidden under the decking, which powers a hydraulic motor inside the original control box.  The controls for this new equipment were also integrated into the box in a way that keeps all the heritage value of this vital piece of machinery.
https://downsexplorer.org.au/wp-content/uploads/2020/07/downsexplorer.org_.au_official_logo_full_colour.png
0
0
southerndowns
https://downsexplorer.org.au/wp-content/uploads/2020/07/downsexplorer.org_.au_official_logo_full_colour.png
southerndowns
2020-02-05 12:20:05
2020-02-17 03:23:33
Locomotive turntable