NEWS FLASH…
**********************************************
Seats still available on our two trips to Clifton during December
On the 10th leave Warwick 10am – includes a two course pub lunch.
Christmas Eve Special on the 24th, also leaving at 10am & including a pub lunch…dress up optional!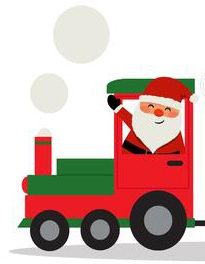 See our Bookings page for full details
The 'Downs Explorer' aims to provide a unique heritage railway experience on the Darling Downs and Granite Belt through the operation of our tourist railway. The 'Downs Explorer' is based at the site of Warwick's former historic Locomotive Depot in Hamilton Street Warwick Queensland. Now called the Warwick Railway Precinct, it is the operations base for our C17 Steam and DH45 diesel locomotives and our vintage carriage fleet.
The 'Downs Explorer' offers you a range of unique heritage rail experiences through some of the most picturesque countryside in Australia. We offer regular tours from Warwick to Stanthorpe and Wallangarra, Clifton, Wheatvale, Hendon, Toowoomba, plus special long weekends to Goondiwindi and Tenterfield, NSW.